The concept of transformational change has gained traction among climate change and sustainable development decision makers and practitioners, in recognition of the fundamental, radical changes in economic activity required to meet the global goals for climate and sustainable development. Transformational change refers to system change, rather than singular, stand-alone development, and involves multiple actors at multiple levels of society. 
The Transformational Change Methodology defines transformational change for GHG mitigation and unpacks this definition to provide a stepwise approach to determining the extent to which a policy is truly transformational. The methodology has been met with interest by governments, financial institutions and programmes as a basis for assessing the expected or achieved transformational impact of policies and investments towards alignment with the global goals.
The methodology is applicable to all sectors, policies and actions.
Executive summary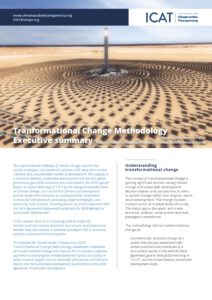 Full Assessment Guide