Tackling the largest source of industrial N2O emissions: Assessing transformational change of the NACAG Initiative
The following is a profile of the following pilot case study.
Partners
Background
The Nitric Acid Climate Action Group (NACAG) is an initiative commissioned by the German Federal Ministry for the Environment, Nature Conservation and Nuclear Safety. It targets the mitigation of nitrous oxide emissions from the nitric acid industry on a global scale.
Nitrous oxide (N2O) is a highly potent greenhouse gas (GHG), with a global warming potential 265 times that of carbon dioxide. The largest source of industrial N2O emissions is the manufacture of nitric acid, which is mainly used for producing nitrogen-based fertilizer. Although effective abatement technologies are available comparably to other mitigation actions at low cost, N2O from the production of nitric acid continues to be emitted into the atmosphere in most countries in the world.
NACAG's vision is to incentivize the installation of appropriate abatement technologies in all nitric acid production plants worldwide. The Initiative provides governments and plant operators in 30 Official Development Assistance countries with guidance and information on technological and regulatory issues regarding N2O abatement and the regulation of the nitric acid sector. Moreover, NACAG makes available financial support to plant operators for the installation of abatement technology and capacity building for maintenance work.
To assess the transformational impact of the NACAG Initiative, the NACAG Secretariat applied ICAT's Transformational Change Assessment Guide – a tool to help policymakers and other users understand the relationship between policies and actions, and the expected or achieved transformational impact.
Objectives
To show the scale of outcomes the NACAG Initiative expects to generate as well as the processes used to ensure the sustainability of these outcomes.
Assessment 
An ex-ante assessment was performed on the initiative for its duration (2016-2030) which sought to better understand NACAG's impact on four key drivers of change: technological development, agents of change, the development of incentive mechanisms and the transformation of behavioral and normative patterns.
Following the Transformational Change Assessment Guide, the assessment evaluated its overall impact in the long-term at the micro, medium and macro level by scoring a number of characteristics on their potential impact. Barriers to transformation were also identified.
Outcomes
The final result for the analysis of the transformation of the Nitric Acid Sector seems to be possible at the policy level and moderate at the extent level.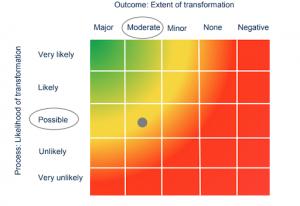 More information
For more information about the Transformational Change Assessment Guide or any of the ICAT series of Policy Assessment Guides, please contact the ICAT Secretariat.
Photo: GIZ