Independent technical review of policy impact assessments can play an important role in supporting learning and improvement of assessments over time. Reviews can also help to enhance transparency, trust and confidence in the implementation of policies, and the reporting of their impacts. The Technical Review Guide helps policymakers and technical reviewers engage in productive reviews that enhance policy assessments.
The Technical Review Guide provides guidance for planning and conducting technical reviews. The guide outlines three different approaches for review and provides guidance on selecting the most appropriate type of review. The elements that define a credible review and the steps to follow when pursuing or conducting a review are discussed.
The guide is applicable to impact assessments that have followed the key recommendations approach.
Executive summary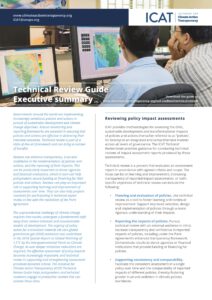 Full Assessment Guide