ICAT aims to help countries measure and assess the impacts of their climate actions. Broad stakeholder participation is an essential factor for fostering greater transparency, effectiveness, trust and ambition in climate policies.
The Stakeholder Participation Guide can help countries enhance stakeholder participation in the design, implementation and assessment of climate policies and actions. Enhancing stakeholder participation has been shown to build understanding and support among diverse groups, which can improve policy and action design and strengthen GHG, sustainable development, and transformational change impacts.
The document provides practical guidance on planning and implementing effective participatory processes. It addresses the key elements of stakeholder participation, including planning, identifying and understanding stakeholders, establishing multi-stakeholder bodies, providing information to stakeholders, designing and conducting consultations, and establishing grievance redress mechanisms.
The Stakeholder Participation Guide is applicable to all sectors, policies and actions covered by the series of assessment guides.
Executive summary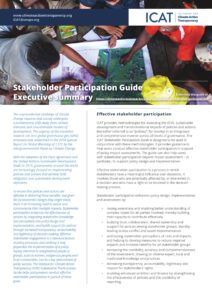 Full Assessment Guide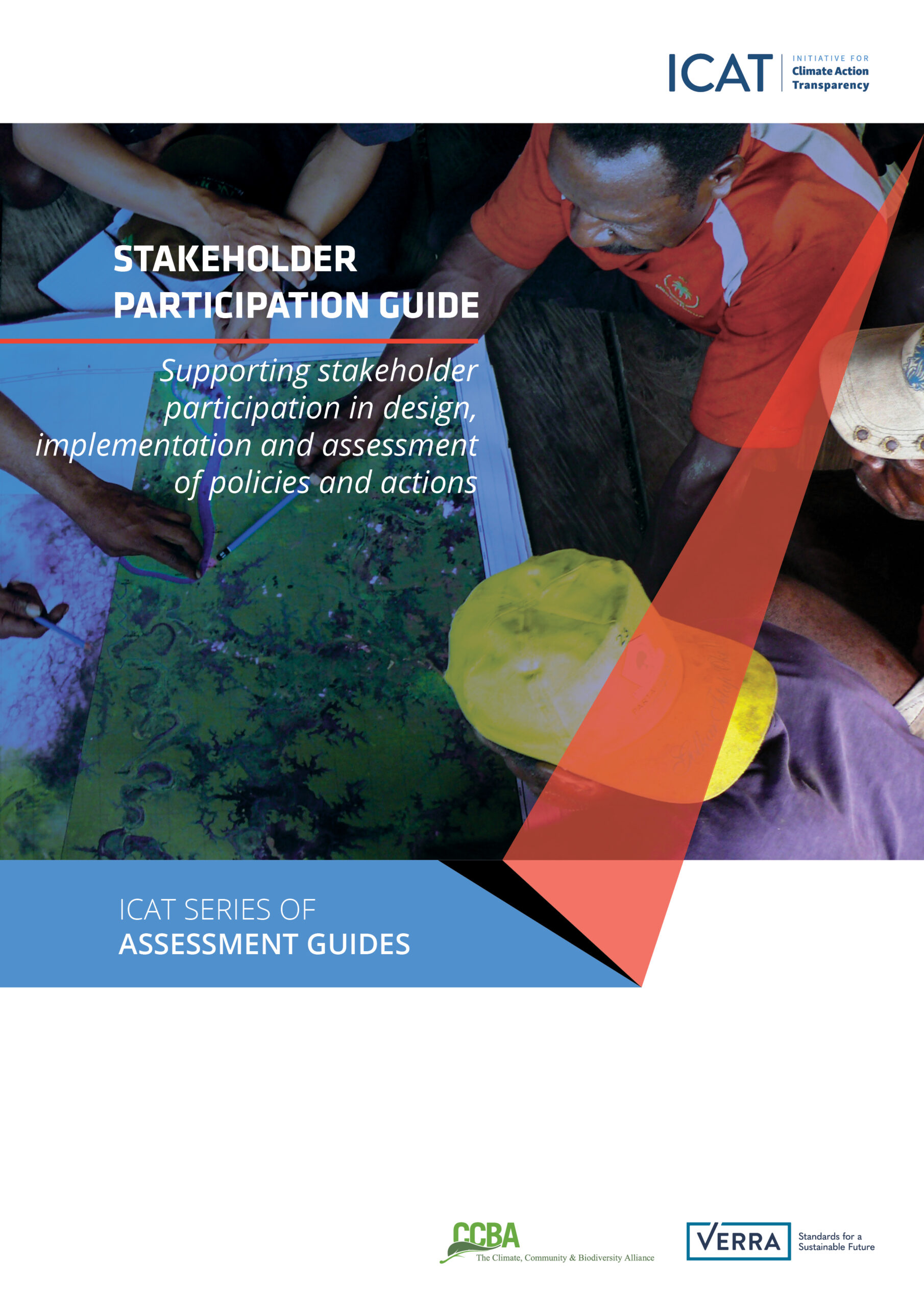 These chapters explain the potential benefits of effective stakeholder participation to enhance policies and actions and their assessment and how this guide can support the design, implementation and assessment of effective stakeholder participation. This section should be read to understand whether to use the guide and to determine what objectives it will be used for.
This chapter introduces key concepts for and the elements of effective stakeholder participation around which this guide is organised. It also provides an overview of key principles that guide effective stakeholder participation.
This chapter supports planning and preparation for effective stakeholder participation potentially combining several elements covered in other modules of this guide. Planning stakeholder participation involves identification of activities, methods, timing, roles, responsibilities and resources to meet the defined objectives of stakeholder participation effectively and efficiently throughout the policy design and implementation cycle. Planning and sharing of plans for stakeholder participation helps stakeholders to understand the opportunities for participation, and the role they can have in designing, implementing and assessing policies.
This chapter provides guidance on identifying all types of stakeholders and understanding their differences across many dimensions, with special attention to those that may be marginalised. Additionally, guidance on stakeholder mapping helps to understand the relative influence, impact or other characteristics of different stakeholder groups and to prioritise them with respect to the objectives and strategies that have been identified for stakeholder participation.
This chapter provides guidance on establishing multi-stakeholder bodies as an important means for on-going stakeholder participation and as a forum for dialogue and mutual learning to inform decision-making.
This chapter provides guidance on active dissemination to stakeholders and passive public disclosure of information that stakeholders need to be able to participate effectively to support policy design, implementation and assessment. Effective participation requires an understanding of the issues based on good information and informed stakeholders provide richer and more effective input.
This chapter provides guidance on designing and conducting consultations as processes that enable exchange of information between stakeholders (including between government and other stakeholders). Effective consultations can serve to provide information and capacity building to stakeholders and to enable diverse stakeholders to provide input reflecting their needs and interests related to the policy that is the subject of the consultation.
This chapter provides guidance on establishing grievance redress mechanisms as formal systems through which diverse stakeholders can lodge any grievances that arise related to the design, implementation and/or assessment of policies. A grievance is defined as an issue, concern, problem or claim (perceived or actual) that an individual or group wants to be addressed and resolved. These mechanisms can take a variety of forms, although they are typically independent of entities that may be a subject of grievances. Grievance redress mechanisms are vital to safeguard policies, secure adequate protection for human rights and ensure just transitions to greener and low-carbon economies.
This chapter provides a list of information that is recommended for inclusion in an assessment and report on stakeholder participation. Reporting on stakeholder participation in the design, implementation and/or assessment of a policy demonstrates transparency, provides stakeholders with assurance that an agreed and/or published stakeholder participation plan has been followed and explains and justifies any changes made to the stakeholder participation plan as a result of adaptive management. Reporting on stakeholder participation combined with reporting on the impacts of the policy can help to build support for the policy, for example among the public, specific stakeholder groups and donors, noting that many donors and other sources of finance, including international and domestic public and private funding, have reporting and disclosure requirements for stakeholder participation.
Glossary, abbreviations and acronyms, references, and contributors
I am convinced of the need for a far more coherent and far-reaching framework to enhance the quality of Stakeholder Participation in order to meet the commitments of the Paris Agreement and Nationally Determined Contributions, as without meaningful input and verification of results from diverse groups, global efforts to stem emissions will surely be compromised.
– Leah Good, Transparency International
Effective participation by stakeholders in MRV processes can contribute not only to improve the quality of the data collected but also to increase ownership for climate action among a broader set of stakeholders which will be critical for the effective implementation of the NDCs and for increasing ambition over time.
– Sebastien Duyck, University of Lapland and Centre for International Environmental Law