ICAT and Costa Rica signed a collaboration agreement to promote SINAMECC
On 11 December 2019 at the 25th session of the Conference of Parties (COP25) of the UNFCCC, Costa Rica's Minister of Environment and Energy H.E. Mr. Carlos Manuel Rodríguez and ICAT Director Mr. Henning Wuester signed a Collaboration agreement between Costa Rica and ICAT to promote and support the use of the national climate change metrics system SINAMECC. The system will now be available to other countries with support from ICAT for its implementation and use.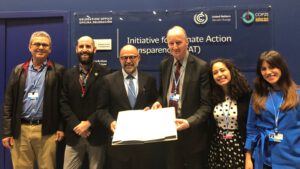 H.E. Mr. Carlos Manuel Rodríguez highlighted Costa Rica's focus on supporting South-South and triangular cooperation. The country will share lessons learnt and best practices from its experience in establishing SINAMECC. The system helps to facilitate country compliance with the Paris Agreement's enhanced transparency framework and to improve the data-based decision making to meet the challenges of the climate crisis. 
Mr. Henning Wuester highlighted the importance of integrated data systems as a basis for sound climate policy making and monitoring of implementation. He expressed his satisfaction with the collaboration which puts ICAT in a position to support developing countries which want to create such a system and become part of a global community of practice around a strong tool like SINAMECC.