ICAT and Antigua and Barbuda begin work to address national priorities of building resilience and achieving NDC targets
At the inception workshop for Antigua and Barbuda's Phase I ICAT project in December 2020, national stakeholders involved in delivering the country's nationally determined contributions (NDCs) came together to identify the key priorities for the country and the range of activities which the ICAT project should focus on over the coming months.
As a sovereign small island developing state (SIDS) in the Eastern Caribbean, the most pressing priorities for Antigua and Barbuda are to build their resilience, particularly against extreme weather events, and to achieve their NDC targets (See Figure 1 and Figure 2).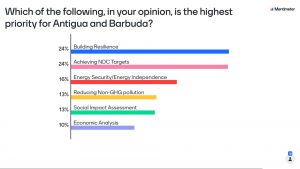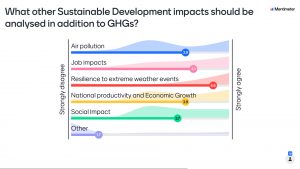 Figure 1: Workshop poll: Country priorities                         Figure 2: Workshop poll: Additional impact analysis
ICAT will therefore support Antigua and Barbuda in its ambition to grow its economy in a low carbon and sustainable manner by working with local and regional stakeholders to develop the capacity to carry out nationwide greenhouse gas (GHG) emission projections and mitigation analyses. As a result, Antigua and Barbuda will be able to effectively assess the impacts of the policies and measures included in both its current and future NDCs.
According to Mr. Jason Williams, ICAT's Project Manager and Data Manager at Antigua and Barbuda Department of Environment on the impact of the ICAT project, "we, as policymakers, will be better equipped to identify where our enhanced climate actions and policies are making a positive impact at a national and local level."
Managed through the Antigua and Barbuda Department of Environment, Monitoring, Evaluation and Data Management Unit, with technical support from the Greenhouse Gas Management Institute (GHGMI) and the Caribbean Cooperative Measurement, Reporting and Verification Hub (CCMRVH), the Phase I ICAT project will also enable the country to apply good practices and tools that integrate evidence-based policymaking into their climate policies and actions.
Ms. Alisha Koulen, member of the ICAT National Coordinating Team at the Department of Environment (DOE) highlights: "a benefit of working with ICAT is its country-driven approach which builds on the work we have already done in Antigua and Barbuda and will therefore advance us towards achieving our mitigation goals and objectives much faster than normal".
As a first step in doing this, the desired mitigation model, output and implementation capacity needed to be defined. Discussed and agreed upon during the workshop, the modelling framework developed under the ICAT project will provide a quantitative representation of all source and sink categories of GHGs from both the energy and non-energy sectors in the country, including a detailed representation of all sources of energy demand and supply. The modelling framework is also expected to address other environmental and social impacts in accordance to their priority status from the government of Antigua and Barbuda.
Dr. Henning Wuester, Director of ICAT comments: "As ICAT projects focus heavily on ensuring that capacity is developed and retained in ICAT partner countries, the active involvement of those who participated in the inception workshop provides a promising outlook on the success of the Phase I ICAT project in Antigua and Barbuda."
Ms. ChristaJoy Burton, Project Coordinator for the 4th National Communication Project, further comments: "I am excited to be involved in the ICAT project and to participate in the training programs that will aid my colleagues and I to effectively track and analyze our country's emissions."
To learn more about the ICAT Phase I project in Antigua and Barbuda, please contact Benise Joseph, Program Associate at CCMRVH.
For more information on how ICAT supports its partner countries or to become an ICAT partner country (current call for Expressions of Interest is open), please contact the ICAT Secretariat.
Photo credit: Slipshod Photog