Fiji partners with ICAT to build MRV capacity for agriculture sector
As agriculture is the country's second-largest source of emissions (excluding LULUCF), the Government of Fiji has partnered with the Initiative for Climate Action Transparency (ICAT) to help build the country's institutional monitoring, reporting and verification (MRV) capacity for estimating greenhouse gas (GHG) emissions from agriculture and assessing GHG and sustainable development impacts of agriculture policies.
Considering that agriculture accounts for 21% of Fiji's GHG emissions (total of 551 Gg of CO2e), with methane emissions accounting for the largest share (405 Gg of CO2e), the recently launched ICAT project will develop the blueprint for an MRV system that targets these key sources of emissions and come up with recommendations for including agriculture sector policies in future Nationally Determined Contribution (NDC) updates.
WIth the Greenhouse Gas Management Institute (GHGMI) as ICAT's Implementing Partner, the project will work closely with Fiji's Ministry of Agriculture and Ministry of Economy to build the capacity of national experts in a number of areas. This will include the capacity to calculate emissions from livestock and rice cultivation using the 2006 Intergovernmental Panel on Climate Change (IPCC) methodology and to apply ICAT methodologies and tools to assess the impact of a number of agriculture policies.
As part of the project, a series of hands-on trainings will be developed to guide Fiji's national experts in developing: (a) an instruction manual for the calculation of GHG emissions from livestock and rice cultivation in Fiji; (b) a report on estimated GHG and sustainable development impacts of two agriculture policies; and (c) a national systems guidelines manual for the agriculture sector.
The guided training series will develop national experts' theoretical and practical skills in data processing, national MRV systems, and on fundamental application of the 2006 IPCC guidelines. This will enable Fiji to maintain its own agricultural GHG inventory and MRV system in the future.
By strengthening Fiji's agriculture MRV and policy assessment capacity, the ICAT project aims to identify ways in which the sector can be included in future NDCs. It will also support the agriculture sector reporting for the next national GHG inventory within Fiji's First Biennial Transparency Report and the Fourth National Communication, building a solid platform for all future reporting of the agriculture sector under the Paris Agreement.
The project was officially launched at its Inception Workshop on 14 January 2021 with key stakeholders introducing the project and creating awareness on MRV and GHG Inventory as an important tool in driving policy action for the sector. The topics covered include expectations and project needs for setting up agriculture MRV and conducting policy assessment. A survey of workshop participants captures the change in stakeholder understanding of climate action transparency (Figure 1).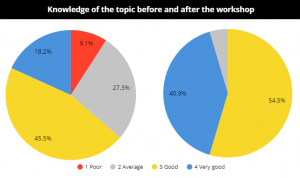 Figure 1: Self-reported level of knowledge before (left) and after (right) the inception workshop. 
To learn more about the ICAT Phase I project in Fiji, please contact Alissa Benchimol, Program Officer at GHGMI.
For more information on how ICAT supports its partner countries, please contact the ICAT Secretariat.
Photo credit: Asian Development Bank